Taking Your Labradoodle Puppy Home
Got labradoodle puppy questions? Listed below are answers to the most common questions I receive as you are preparing to take your puppy home: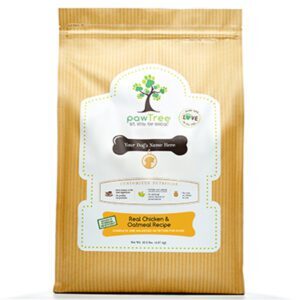 1. What is my puppy eating? We are feeding  your puppy PawTree. They are eating either the Real Chicken & Oatmeal or Real Turkey & Brown Rice flavoring. They have a multitude of other flavors you can try out after your puppy comes home too. You can buy this food by clicking the PawTree picture at the bottom of any page on our website. We can't speak highly enough about PawTree & their wide array of feeding options. Their premium dog food, seasoning, & treats are second to none in our opinion & something we encourage all families to consider for their Australian Labradoodle. While we don't advise it, even if you intend to transition your puppy to another food you will want to have some on hand when your puppy comes home. You can find out more information at www.PawTree.com/mtview. Enter code INTRO4U at checkout for a discount. We also encourage you to set your order to their EZship so you never run out. They also offer personalized food by filling out a pet profile so we encourage all families to head over to fill out their pet profile for personalized food plan as well as personalized bags of dog food when they arrive.
2. How many times per day should my puppy be fed? We feed puppies, 8-12 weeks old 3 x per day. We try to keep them on a schedule such as: 7:00 a.m., 12:00 noon and no later than 6:00 p.m. Once the puppy reaches 12 weeks, we cut them back to eating 2 x per day, eliminating the noon feeding. Increase the amount you feed based on the recommendations you will find on the dog food bag as suggested by weight of the puppy. We do not recommend free feeding – give your puppy about 20 minutes to eat, then pick it up and put it away. Water should be provided at all times, except during the night. When your puppy arrives you will want to feed them 1/4 cup of food at each meal. Wet the food for about 30 minutes prior to giving it to the puppy so it softens to aid in digestion. If the puppy seems hungry then you can increase the 1/4 cup amount at each meal. However, if you see loose stools it is almost assuredly overfeeding so back it off until the stool is firm and then slowly add back in.
3. When can I start training my puppy? We like to see training start as soon as you pick up your puppy from my home, or your puppy arrives via car or airplane. We recommend transporting your puppy home in a crate that is lined with a bath towel. Feeding time is a fantastic opportunity to train as you can spend a few minutes several times per day with teaching the basic commands of sit, stay and come. We provide a helpful training booklet with detailed information on training on our Puppy Tips page. We also strongly suggest that every family pay for the low-cost, lifetime membership of Baxter & Bella. This is a training tool you won't want to miss out on. More information can be found here: https://mtviewdoodles.com/baxter-bella.
4. What size crate should I buy for my puppy? Most puppies that will mature to a medium size will need a large crate once they have reached maturity. Initially you will want a smaller crate for your puppy, so that he/she doesn't go potty in one end of the crate. A nice sized large crate for a mature medium sized labradoodle (40 pounds) is: 36″ X 25″ X 27″. For a small/medium labradoodle (30 pounds), you might like a 32″ X 22.5″ X 24″. We prefer the wire/metal crates as they typically come with a divider that allows you to buy one larger crate & let your puppy grow with the crate without giving it too much space. Plastic crates are an option as well. All crates go off of inches at the shoulder as well as weight so pay close attention to our full growth estimates for the puppy you'll be receiving so you know what to expect. If you have any questions please ask us.
5. What type of collar and leash do I need and what size is best for my puppy? We like to buy the less expensive, adjustable-type of collars and a nylon leash. We do not care for the expandable leashes that allow the puppy to walk way out in front or way off to the side of you. The smallest setting for the collar would be about 8 inches and expanding out from there. Puppies like to chew, so it might work out well to buy a choke chain and instead of putting it on the dog,  attach to the end of your leash and then to the puppy's collar. We use small carabiners to attach the stretched chain between the collar and the leash. This will prevent your puppy from chewing your new leash. While every puppy's neck will mature & grow uniquely, most puppies will come close to fitting the "small" puppy collar size that usually expands from 8″ to 12″. If you are reserving a small size pup then I would suggest an XS collar. Another option while they are very young is a slip leash style. They would go without a collar while they are really young & you would use a slip leash to walk them until they mature a bit. Some families like to train in harnesses. This is also a tool you can use. Sizes will vary from company to company, but most go off of weight. Ask us the estimated weight of your future puppy at the time they will go home so you will have a rough idea of what to purchase. It is never a bad idea to weight to buy until you can size your puppy in person though as each harness will fit differently.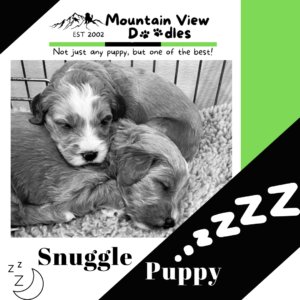 6. Where should my puppy sleep when I first bring him/her home? We suggest you have your puppy sleep wherever you would like him/her to sleep as an adult. So if you'd like your puppy sleeping in your bedroom with you, then start him there. If you'd prefer he sleep in a laundry room, start there. You can play the radio softly if your puppy is in a different room from you as this is how they were raised with us. There are many methods to crate training & no method is right or wrong. You have to find a system that works for you. A puppy may bark & whine to let you know they miss you & want to be with you. However, keeping consistent for the first few nights will build a sleep pattern in your dog you will enjoy for its entire life.
7. How many times per night will my puppy need to go out to go potty? We suggest you feed your puppy dinner no later than 6:00 p.m. and limit water consumption after that. Make sure that you see puppy go potty and poop before putting him to bed for the night. If your bedtime is 10:00 p.m., then put the puppy to bed at that time as well (right after he's gone potty one last time). Once puppy goes to bed, do not let him out of his crate, no matter what he says 🙂 for at least 6 hours. The goal is for your puppy to learn to hold it and puppies at 8 weeks of age are very capable of holding their bladder for 4+ hours during the night. Then only if puppy is whining, let him out very methodically to potty (no playing) and put him right back to bed. Begin to lengthen out the time so that you're getting an 8 hour night of sleep.
8. How many times per day should my puppy need to go potty? Puppies will always go potty right away after they wake up and after they eat. If you take puppy out right after eating, see him go potty, then allow about 30 minutes of some free time in your home before making his world small using a temporary fence or leash. If puppy gets "fussy" or restless, take him right out to potty and say "let's go potty outside". On average they can typically hold their bladders for 2-hours, but every puppy will react differently to stimuli in your home. So watch their body language & be consistent!
9. Should my puppy have contact with other vaccinated dogs? We like to make sure other dogs have not only been vaccinated, but are also free of parasites. Worms of all sorts can live in feces and it just take a quick second for your puppy to ingest enough to get a parasite. We would keep your puppy away from all feces (even dried up along the sidewalk) until he's had his complete vaccination series (parvo/distemper is complete at 16 weeks of age). You will also need to get your puppy started on a good flea/worm preventative medication. This product should be alternated every 6 months. There are countless natural remedies as well as chemical based options you can find at your vet.  We always prefer natural options first, but in some cases the chemical based products are needed. Check with your vet or trainer for their recommendations in your area. We strongly suggest topical or collar options only. We do not recommend any "all in one" pill that many vets are offering.
10. How often should I give my puppy a bath and what should I use? We do not bathe our puppies unless they are dirty and we use baby shampoo or something gentle. Make sure you put cotton balls in your puppy's ears to prevent water getting into the ear canal. It's a good idea to clean the ears after the bath with a good cleaning solution like MalAcetic Otic. Ask your veterinarian to show you how to clean your puppy's ears. Nuvet as well as Pawtree offer wonderful shampoos & ear cleaning solutions!
12. How often should I have my Labradoodle Puppy's coat cut? We usually suggest people decide what they like in the look of their Labradoodle. Do you like the longer, shaggy look, or do you like the shorter, more manicured coat? The shorter the coat, the easier the care will be, but it's totally up to your personal preference. If you leave the coat longer, you will need to keep it combed out and mat free.
13. Do you have recommendations for where to stay when we pick up our puppy? We are located only 20 mins from Lebanon, Oregon. We are about 30 mins from Albany, Oregon, Springfield, Oregon, or Eugene, Oregon. There are numerous hotel options in Albany, Springfield, or Eugene that you can explore. If you choose to stay in Lebanon as the closest option we suggest the Best Western – Boulder Falls Inn. If you would like further accommodation, food, or entertainment ideas while visiting our area don't hesitate to ask.
Visit our online store for items we suggest for your puppy!