We Raise Only Top-Quality Australian Labradoodle Puppies
A little about us: Doodles are our life! Our home, Mountain View Labradoodles, revolves around our adult Australian Labradoodles and each new litter of Australian Labradoodle puppies that we lovingly bring into the world for new owners like you. 
We love what we do and we find so much value in raising health-tested, happy, and quality puppies for all of our loving forever homes we get the opportunity to work with.
We are the complete opposite of a puppy mill. Our breeding dogs do not live in kennels. They live in our family home or with approved guardian homes where they enjoy large indoor and outdoor areas that are custom-built for the unique needs of puppies. Their day is scheduled around exercise in different yard areas where they run on fresh grass, challenge themselves on an obstacle course, go for walks, and come inside our home to play calmly and snuggle. Our females whelp only three litters and then "retire" so they can live a regular dog life with their family.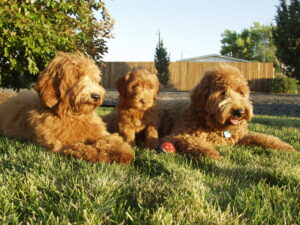 Right from birth, each litter of puppies is welcomed into our home as a family. Our puppy nursery is our "whelping" center where we hand-deliver each puppy and aid in their care, along with their mom, until they begin actively moving around four weeks old. The transition to larger indoor/outdoor play areas with many custom-built features for their comfort, exploration, and safety.
We watch the puppies for hours with delight, care for them as if they were our own children, play and laugh with them, and revel in each milestone … opening their eyes, their first walk, first kibble, first everything! It's all very exciting!
But what we love most is witnessing the special bond that begins so sweetly between your pup… and you.
We pour everything we know and have into your pup so he or she will get the best possible start in life. We don't mind bragging that what you're getting is a puppy that we think is … well … absolutely perfect.
"This is amazing!! We couldn't be happier. The kids say, 'Mom, we got the best one!' I couldn't agree more. Thanks for raising such a great puppy. I'm sure we will have our share of chewing, but until then he can do no wrong. He even sleeps from 10 pm-6 am!!?"
More About Us: Our History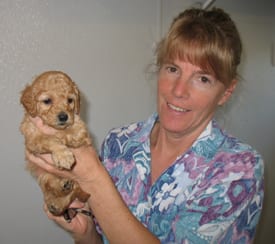 In 2001 Terrie and Gene Schaff started Mountain View Labradoodles. Terrie really felt like she had a God-given talent to produce beautifully and impeccably bred Labradoodle puppies.
From the time she was a young girl, her life revolved around breeding and baby animals. She raised cats, dogs, horses, and bunnies, and took great pride and care in the birth and bringing up of each litter. It's all she wanted to do!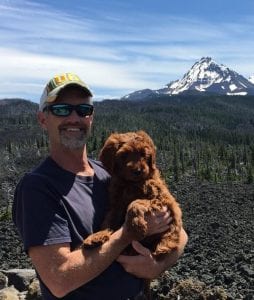 Since then, she has spent countless hours with vets, other breeders, and trainers who are top in the field. Her training as a vet-tech gave her a deep understanding and background in animal life-cycles, medical and minor surgical care, the genetic science of disease, disease transmission, prevention, vaccination, and animal physiology. She also took many obedience classes and promoted compassion and respect in every teaching moment with puppies and dogs.
Mountain View Labradoodles' breeding practice was built on a combination of all of the best techniques she learned and her natural intuition with animals. Along with her husband Gene's special touch and focus on socialization, they produced Labradoodle lines, that match with families like yours and are some of the best you can get in the United States.
Along the way, Terrie started working with her niece Sara and her husband Robby Gilliam. Through many years of working side by side, Terrie and Gene passed on their knowledge and expertise to Robby and Sara as they partnered in the business. They have been partnering with Mountain View Labradoodles since 2010, whelping litters and raising puppies.
In 2018, Robby and Sara officially took over Mountain View Labradoodles as Terrie and Gene moved towards new adventures. Because their children have grown up with puppies in their world, they are the best for socializing and train puppies in ways that prepare our puppies for a smooth transition into your home. The puppies get used to the noise of children and being gently snuggled regularly.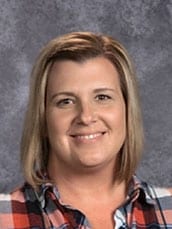 Another huge part of Mountain View is the care and support Rory Rush brings to our team. Her care, grace, and attention to detail help keep the highest care for our puppies & our customers.
We also own two dogs that interact with the puppies often. Ella is a family pet. We call her the gentle giant as she is a standard size in a chalk color. She has such a sweet disposition and is an amazing mentor to our older puppies after they have been weaned. We also have one of our amazing studs, Teddy who lives with us. He is such a sweetheart and is the world's best cuddler! He is always very curious about the puppies and has such a loving personality. These two dogs play a very important role in the care of our sweet puppies.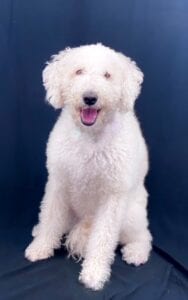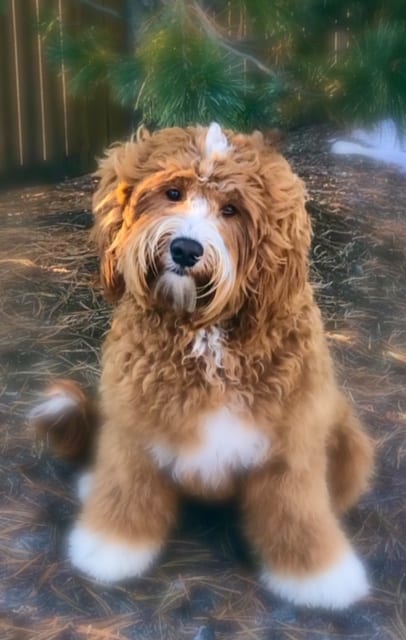 Earth's Angels Theodore for Mountain View (Teddy)
We believe Mountain View Labradoodles is not only built on family love and care, but also on our love for puppies. Many people ask us why we do what we do? The moment we place that adorable puppy in your arms for the first time and see the joy on your face is the reason.
We love providing puppies that enrich homes and create an environment of love and affection. We truly believe that at Mountain View Labradoodles you're not just getting any puppy, but one of the best! 
We love to talk about our puppies and discuss your interest in our Labradoodles. Please contact us any time to talk about how one of our amazing puppies could become yours!